Exhibition
JEJU Beauty Tour - 제주 뷰티 투어
본문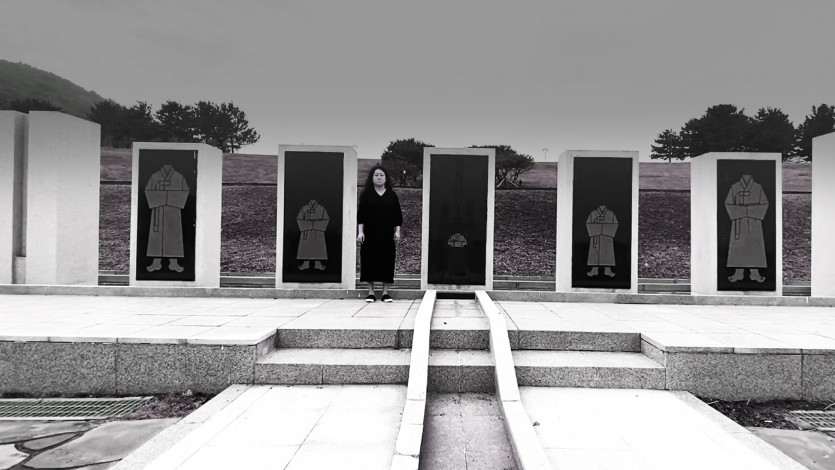 연정 (Yeonjeong)
<제주 뷰티 투어 JEJU Beauty Tour> 
13min, HD video, sound, color, 2020 
제주 4.3의 공식적인 역사가 주변화하고 있는 여성의 피해와 이야기에 주목하고, 공식적인 '기념', '기념비' 등 역사가 현재에 기억하고 기념하고자 하는 사회적 조형물, 형식의 의미와 누락된 여성에 대한 애도를, 움직임으로써 개입하고자 하는 퍼포먼스 영상이다. 이 시도는 공식적인 역사와 예술가의 개입이라는 개별자의 역사를 교차시키고자 하는 것이고, '기념'에 대한 재해석을 통해 애도와 새로운 성찰과 공감으로 나아가고자 하는 시도이다. 
일상적 공간을 기념적 공간으로 탈바꿈시키는 것이 시각적 예술의 개입이라고 한다면, 일상적 행위를 기념적 행위로 탈바꿈시키는 것이 퍼포먼스적인 행위적 예술의 개입일 것이다. 이러한 예술적 개입이 하나의 새로운 '사건' (들뢰즈의 용어적 맥락에서)으로 기능하길 바란다. 새로운 기억을 만드는 '사건', 기록에 대한 새로운 '사건'으로써의 또 하나의 대안적인 기록이다. 
이 작품은 역사적 트라우마에 대한 애도의 주된 모티브로 제주 화산송이를 가지고 오면서, 애도의 한 방식으로 유머를 선택한다. 슬픔과 웃음이 교차하는 페이소스가 일종의 이 작업이 가지는 주된 정서이다. '미용투어'라고 이름붙여진 역사와 다소 생경한 거리를 가지는 제목과 각 단락의 주된 퍼포먼스 행위들이 제의적 의미를 띄면서도 다소 과장되어 있다. 이는 여성의 일상행위인 '미용'이라는 행위를 통해 여성의 정체성을 역사와 조우시키려는 시도로 사료중심의 아카이빙을 통해 접근하는 공식적인 역사에 예술적인 개입을 통해 새로운 층위의 텍스트들을 만들어내려는 작업이다.
JEJU Beauty Tour
13min, HD video, sound, color, 2020 
It is a performance video that pays attention to the damage and story of women whose official history of Jeju 4.3 is being marginalized, and attempts to intervene into social monuments such as official "ceremony" and "monument" that history remembers and wishes to commemorate in the present mourning for missing women by movement. This is an attempt to cross the official history with the individual's history of the intervention of the artist, and to move toward mourning, new reflection and empathy through reinterpretation of the "monument." If the intervention of visual art is to transform everyday space into a memorial space, then the intervention of performance-based behavioral art is to transform everyday behavior into a commemorative action. Hopefully this artistic intervention will function as one new "event" (in the context of Deleuze's terminology). It is another alternative record as an "event" that creates new memories, a new "event" for records.This work chooses humor in one way as mourning, bringing in Jeju scorcia as the main motif of mourning for historical trauma. Pathos, where sadness and laugh intersect, is the main emotions of this work. The title and the main performances of each paragraph, which are somewhat unfamiliar with the history as named "Beauty Tour," are somewhat suggestive and exaggerated. In an attempt to encounter women's identity with history through the act of "beauty," a daily act of women, this is a trial creating a new layer of context through artistic interventions into official history oriented tas imeline archiving.
학력 
미국 위스컨신대 영화과 대학원 졸업 
한국예술종합학교, 영상원, 영상이론과 졸업
경력사항 
2006-2013
외래교수 및 강사, 한국예술종합학교, 성균관대학교, 서울예대, 계원예대, 호원대학교 등
2006-2009
서울국제실험영화페스티벌, 집행위원 및 큐레이터
서울국제뉴미디어페스티벌, 심사위원 및 큐레이터
주요 영상, 전시 및 수상 
미얀마 제로 플랫폼 국제 퍼포먼스 페스티벌, 방콕 비엔날레, 필리핀 비바엑스콘 비엔날레, 네덜란드 로테르담 국제영화제, 
독일 뒤셀도르프 현대 미술관 KIT, 터키 앙카라 국제영화제, 브라질 상파울로 현대 미술제, 그리스 나우싸 국제 영화제 등
2020 개인전 <봉지가방 2020>, ArtlabBusan, 부산광역시 
2019 개인전 <노점_보따리 따라 봉다리 따라> , 부산, 울산, (오사카, 대마도) 일본 등-
2018 개인전 <666 for 6> , Tentacle gallery, 방콕, 태국
2017 개인전 <그리고 아무도 없었다 And then there were none>, Waley art gallery, 타이베이, 대만
2017 개인전<555 for 5>, 퍼포먼스 개인전, art space Liau Liau, 타이베이, 대만
2015 개인전 <어두운 게 까만 건 아냐 The dark isn`t always making the black>, ART in NATURE, 부산광역시
2014 개인전 <소금기둥 Salt Pillar>, 소금포 갤러리, 울산광역시
2014 개인전<똑딱똑딱 로맨틱한 고독의 표면 Toktak Toktak the romantic surface of solitude>, 갤러리 로하 Gallery LOHA, 
울산광역시
2014 한국문화예술위원회, 다원예술작가지원금 수혜
2019 부산문화재단 국제교류 해외레지던시 지원금 수혜
2020 한국문화예술위원회, 온라인 예술활동지원 지원금 수혜
출판 및 작품 소장 
<연정 퍼포먼스 2018-2019>, 독립출판, 2019
<Suxury vol.1>, 독립출판, 2018
<연정 퍼포먼스 2014-2017>, 독립출판, 2017
<그리고 아무도 없었다>, 독립출판, 2016
<Heat shot 3>, DVD released, Lowave lab, 파리, 프랑스, 2011
<Heat shot 3>, DVD released, Aurora, 영국, 2009
한국영상자료원, <차이와 반복1-스침과 마주침>, 소장, 2008
연락처 
E-mail; joan.yeonjeong@gmail.com, giantela@hanmail.net
Web: www.yeonjeongkim.com
Video: https://vimeo.com/user22104414
Education
University of Wisconsin Milwaukee, Film, MFA, USA
Korean national university of arts, Cinema studies, BFA, Korea
Personal experience 
2006-2013
Visiting professor & Lecturer, Korean national university of arts, Sunggyunggwan 
university,
Seoul institute of the arts, Kaywon university, Howon University, etc
2006-2009
Seoul international experimental film and video festival, curator and committee
Seoul international new media art festival, jury and curator 
Main Screening, Exhibition and award 
Zero platform international performance festival of Myanmar, Bangkok Biennale, Philippines VivaExcon, Rotterdam
international film festival(NL), Germany Dusseldorf contemporary art museum KIT, Turkey Ankara international film festival, 
Brazil Sao paulo contemporary art festival, Greece Naoussa international film festival, etc 
2020 solo<bag bag 2020>, ArtlabBusan, Busan
2019 solo <Street Stalls_following the bundle and following the bags>, Busan, Ulsan, (Osaka, Daemado) Japan, etc.-
2018 solo <666 for 6>, Tentacle gallery, Bangkok, Thailand
2017 solo <And then there were none>, Waley art gallery, Taipei, Taiwan
2017 solo <555 for 5>, Performance Solo Exhibition, art space Liau Liau, Taipei, Taiwan
2015 solo <The dark isn`t always making the black>, ART in NATURE, Busan
2014 solo <Salt Pillar>, Salt Po Gallery, Ulsan Metropolitan City
2014 solo <Toktak Toktak the romantic surface of solitude>, Gallery LOHA, Ulsan Metropolitan City
2014 Korea Art Council, multimedia artist support grant
2019 Busan cultural foundation, international residency support grant
2020 Korea Art Council, online activity support grant 
Publication and collection 
<Suxury vol.1>, independent releasing, 2018
<Yeonjeong performance 2014-2017>, independent releasing, 2017
<And Then There Were None>, independent releasing, 2016
<Heat shot 3>, DVD released, Lowave lab, Paris, France, 2011
<Heat shot 3>, DVD released, Aurora art Lab, UK, 2009
<Glance and Focus-Difference and Repetition 1>, Purchased, Korea National Film Archive, 2008
Contact 
E-mail; joan.yeonjeong@gmail.com, giantela@hanmail.net
Web: www.yeonjeongkim.com